Over the decades and generations, Audiotec Group has strived to consistently provide progressive and distinctive solutions that evolve with the changing times.Today, we are proud to be counted as one of the leading audio/visual experts in the country and we are honored to have worked with so many esteemed individuals and companies. We look towards an even brighter future, eager to experience what technology will bring us tomorrow.
THE CONTINUING LEGACY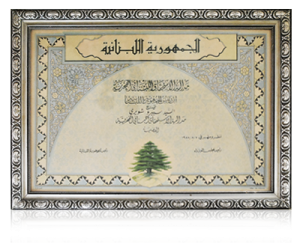 OOver half a century ago, in the 1950's, Spiridon Choueiri was a man creating national history. Cinema was a growing passion around the world, especially in Europe and the US, but Lebanon had yet to feel the magic of the movies. By becoming the first person to install the film projection and sound system needed for the cinematic experience, Spiridon Choueiri not only placed himself at the forefront of an industry that would exponentially grow in the decades to come, but he also laid the foundations for a family business, which today is the country's leader in audio/visual solutions and products.
For his great achievement, Spiridon Choueiri was bestowed with the Order of Merit from the then Lebanese president, Camille Chamoun.
His son, Nabil Choueiri, took over the reigns in 1979 and created Audiotec Group by applying the experience he had learnt from his father before him to build a name that would be synonymous with audio/visual achievement.
Inspired by his family history, Nabil Choueri launched the Audiotec Group to continue to provide Lebanon with the most state of the art audio/visual services.
Today, the company offers a wide range of solutions that provide technologically advanced fixed installations for homes, businesses, entertainment venues, concerts and events, with the most progressive equipment and up to date technologies available on the market.